Securing a County Court Judgment (CCJ) is often 25% of the battle! Actually securing payment accounts for the remaining 75% and we have the experience and knowledge to guide you through the enforcement options.
These are many and not all are appropriate for the judgment outstanding. We can explain which is your best option and how long it should take to achieve success if indeed the debt is recoverable.
In cases where we are instructed to collect several debts for one client, we may be able to offer fixed fees based on the value of the debt with a very nominal fee in the unlikely event of non-recovery.
If you want to make someone bankrupt for a debt owed to you
Legal aid is no longer available to sue for a debt or to pursue bankruptcy. Our Dispute Resolution Team can assist you in claiming payment through the County Court but if you already have a Judgment and want to make the debtor bankrupt, we can still assist.
Currently, a debt inclusive of any court costs must be £5000 or above.
We offer a fixed fee service so that you can budget ahead. If you need to discuss whether bankruptcy is a viable option, please make an initial fixed fee appointment and we can advise on the procedure and further costs which could again be on a fixed fee basis.
At the moment the Court fee and official receiver deposit to manage the bankruptcy is £1270 although this reduces to £990 if you are on a low wage or in receipt of qualifying benefits.
Our Debt Team is supervised by Ben Barber who has 17 years experience and qualified as a Solicitor in 2003. The team has a Solicitor with 17 years experience and a paralegal with 38 years experience.
These costs apply where your claim is in relation to an unpaid invoice which is not disputed and enforcement action is not needed.
If the other party disputes your claim at any point, we will discuss any further work required and provide you with revised advice about costs if necessary, which could be on a fixed fee (e.g if a one-off letter is required), or an hourly rate if more extensive work is needed.
If enforcement action is needed on any judgment successfully secured, we will give you an indication of our further fixed fees and court fees because these will depend on the enforcement action you opt for following our advice.
We will not accept instructions for a debt below £1,000.00 simply because, in our view, it is not commercially viable for us or our clients.
The following table gives details of court fees and our fixed cost. These are for all work up to and including securing a judgment in default of a defence.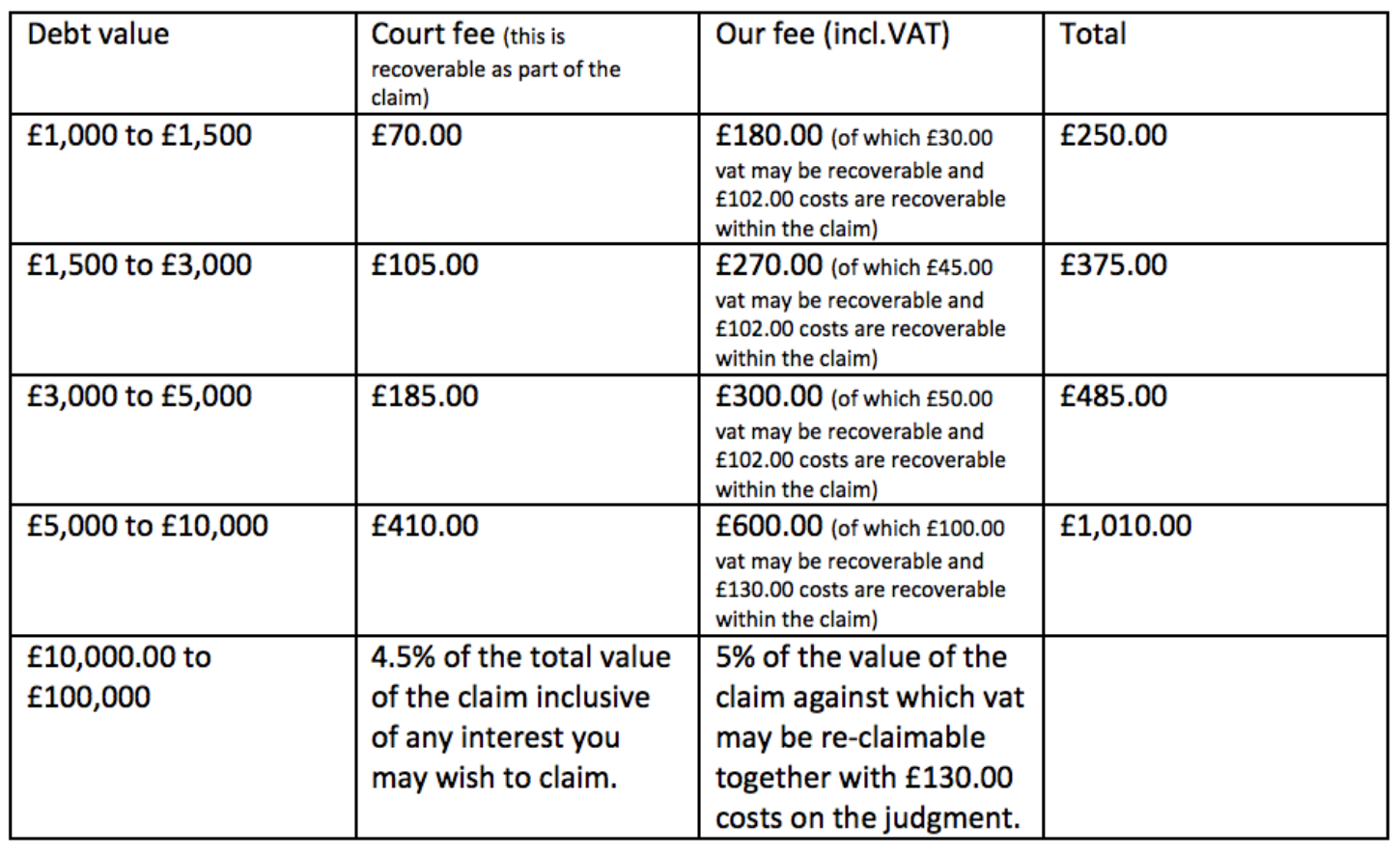 Fees
We offer a fixed fee initial interview of £120 including VAT for you to discuss your options.
Quick Contact
Grimsby
Louth
Scunthorpe
Barton