It was a fresh, crisp night when BG Solicitors' Grimsby (BG) netball team took the court against Forrester Boyd (Boyd) on 2nd December 2019. For the first time in weeks, the courts were not slippery and all players therefore had the confidence to run around with gusto!
It was Boyd who established their flow quickest but the first quarter was low scoring at just 3 – 1 to Boyd.
BG had a much better second quarter with both teams scoring 7 goals, ending the quarter at 8 – 10 to Boyd.
BG's improvement was predominantly down to the defensive heat being turned up by Helen Otter, Carla Mowforth & Liz Dransfield. They marked very tightly and on securing rebounds or interceptions, drove the ball into BG's attacking areas. Carla Mowforth had a particularly sparkling second quarter. She intercepted several passes to Boyd's GS and also blocked the GS from getting the space she needed to get near her goal post. With each attack obstructed, Carla linked up well with her long standing fellow defenders, Helen Otter and Liz Dransfield.
Half time called for a tactical showdown and it was delivered by Liz Dransfield. Liz gave BG's GS, Helen Maeers, some advice on how to deal with the excellent defending of Boyd's GK and Helen perfectly responded. She and her shooting partner, Karen Boulton, found their harmony and netted 4 goals to Boyd's 1 thus taking the lead at the end of the third quarter at 12 – 11.
The tension was therefore definitely on for the final quarter and it was goal for goal for most of the 10 intense minutes. However, it was BG's stalwart centre court players i.e. Jean Williams & Joy Boothby, who continued to get stuck into the mix and ably assist BG take the final whistle as winners with a score of 18 – 16.
The match was umpired competently by newly qualified Courtney Dean and Sophie Dunbar. One umpire voted Carla Mowforth as player of the match, while the other umpire voted for Jean Williams. Jean also secured Boyd's vote as player. BG voted Boyd's GD, Amy Gowshall, as player of the match.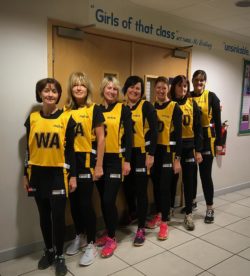 Front to back:- Joy Boothby, Karen Boulton, Jean Williams of BG's litigation department, Carla Mowforth, Helen Otter, Liz Dransfield & Helen Maeers.
Squad members absent from the photo:- Stephanie Thomson, Sarah Lister, Sarah Allen, Rachael Maeers, Laura Nee of BG's litigation department and Danielle Roberts.
Results and League Tables : Results PDF
For more information on the league: Website
Quick Contact
Grimsby
Louth
Scunthorpe
Barton