We believe that apprenticeships are a great opportunity for individuals to learn while they work alongside gaining a qualification.
Here are two of our apprentices who have completed their training with us:
Aimee Verity.
There are many benefits of apprenticeships however in my opinion some of the main benefits are that you are in paid employment gaining the experience and receive a recognised qualification without having to pay university fees. It gave me the confidence to grow within the company and develop many skills. You benefit from the support of both your line manager and tutor throughout your studying. It helps you to find the right career path for you and progress within the workplace and improves your employability. Personally my apprenticeship enabled me to progress within the firm from administrator/receptionist to a paralegal and trainee legal executive in the Wills and Probate department.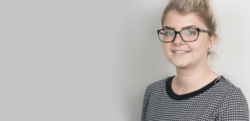 Jarred Fox.
Whilst at School I was unsure of what I wanted to do when I left, I tried college for a year but still felt that this wasn't the right path for me.  I decided to try an Apprenticeship with BG Solicitors.  I will have been at BG Solicitors seven years this year and have progressed in becoming a Paralegal within the Residential Conveyancing Department.  I am currently working towards my Licensed Conveyancer qualification and enjoy working with clients in order to make the conveyancing process run as smooth as possible.